Trulion Online
Patch Notes 0.4.4 (12/20/2018)
---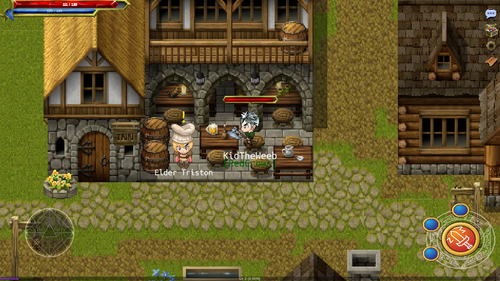 Patch notes for 0.4.4
UPDATE HIGHLIGHTS
Optimization exploration… Dramatic optimization has been done to improve game play of Trulion Online. Several improvements such as loading speeds and latency issues that were happening prior to this patch.
REQUIREMENTS
iOS (Click Here) Once approved by Apple you can play.
COMMUNITY LINKS
SYSTEM UPDATES
We cleaned up the game and optimized is dramatically to help with older devices. This involved compression of audio files, removal of unused assets that aren't being used and wont be used, optimizations to the map and entities in the map.
Events system has been updated. Treasure hunts, races, free for all spars, and ghost spar have been updated and added. This system is automated and will reward the winner of the event.
Most of the crafting stations have been moved inside of the buildings.
Entering buildings has been fully implemented. No more screens freaking out when trying to enter a building.
Crafting system have been updated.
Optimizations for visibility of players and npcs around you.
Character's system has been improved for movement and customization. Mask slot has been added to the characters.
Tap to move has been removed
ECONOMY
Durability values adjusted on equipments again.
Crafting requirements have been adjusted.
Maximum stack amounts for many resources are now 100 instead of the lower numbers.
UI
There is now leaderboards for PVP kills in the world, PVP arena kills, PVP 1v1 wins
Updated some of the icons so they are no longer white squares.
Updated UI to increase the size of different systems that appear to small on mobile devices even when using the scaling setting.
World
Added Auction House and Bank NPC to their own level.
Added Blacksmith and Master Blacksmith to their own level.
Added Alchemist NPC to its own level.
Added Tailor NPC to its own level.
Added Battlemaster NPC to its own level.
Added Arenamaster NPC to its own level.
Added Carpenter NPC to its own level.
Moved Elder Triston to start section.
Moved Cosmetic Merchant to start section.
Moved Crafting stations into their own levels.
FIXES
Update all the mobs in the game to have proper scale. Testing has show this to improve the issues regarding mobs not attacking or players not being able to attack the mobs.
Fixed issue where older devices kept crashing due to resource usage spike.
Fixed issue where you couldn't progress in the quest.
Chat overhead has now been corrected to show over everything except for the UI Canvas.
Fixed NPC names and quest indicators.
Known Issues
Friend requests currently do not work.
NPCs are flashing sometimes.
HELP WANTED
Do you or someone you know have experience in UI Design? We're looking for a talented individual to assist us with design and artwork for our new UI.
We are also looking for a talented sfx/composer to assist us with sound and music composition.
Positions currently are for freelancers on a contractual basis. All inquiries related to UI Design and SFX/Music composition may submitted via email to careers@exuberantgames.com